Sophisticated, Whole Home Filtration Designed to Enhance Your Western Kansas and Eastern Colorado Water Quality
Happier houses have whole home filtration from Scheopner's Water Conditioning, Inc – see how today!
Whether you live in Goodland, Colby, Thomas, Kit Carson, or Gove, your tap water could be causing problems throughout your home. Regardless of if your water tastes less fresh than it should or if water quality issues are making your appliances work harder and burn out sooner, tap water can take its toll on your homes, and the people who live in them.
Whole home filtration effectively brings your hard water problems to a halt, improves your water taste and quality, and brings additional benefits like reducing your monthly utilities. Goodland and Colby's most trusted whole home water treatment solution can help you experience a happier, healthier, and more efficient home.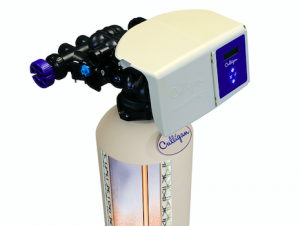 Western Kansas and Eastern Colorado Water Quality
Since Goodland and Colby's drinking water is sourced from surface water like lakes and rivers, rigorous municipal treatment can sometimes leave the taste, smell, and overall quality of your water wanting.
Whether you're dealing with a noticeable taste or odor, white, hard-to-clean buildup left behind by hard water, or any other quality concern, untreated water can be unpleasant can cause unnoticed consequences for your home, from plumbing and fixtures to major appliances and beyond.
Whole Home Water Filtration Solutions
Culligan® Goodland and Culligan® Colby Whole House Water Filters are designed and customized to solve water quality problems impacting your home and neighborhood. Our specialized water filters treat hard water and poor-quality water at the source, so every area of home has fresher tasting water that works better – from the kitchen sink to the shower and everywhere in between.
Benefits of Whole Home Filtration
Filtered water works more efficiently in your home – reducing utility bills and helping major appliances last longer.
Removing treatment chemicals, like chlorine, and minerals, like iron and calcium, improves the taste and quality of water everywhere in your home.
Filtered water is also easier on your shower routine, helping skin, hair, and nails feel healthier and more moisturized.
Using filtered water in the laundry room helps keep clothes looking new and can help your favorite outfits and pieces last longer while looking better.
In addition to added efficiency for appliances, homes with filtered water generally use less of their preferred cleaning products — whether that's dish soap, detergent or shampoo, all these products all go farther and work better with filtered water — saving you time and money.
The Culligan Difference
Scheopner's Water Conditioning, Inc knows Goodland and Colby water filtration. We've worked with the local water supply and its unique challenges for homeowners for over 80 years. Our local expertise and commitment to understanding your home's specific water is what allows us to determine your water goals and provide a custom solution designed to meet them.
Learn more about the home benefits of a Culligan® Culligan® Whole House Water Filter!
Culligan® Whole House Filter Overview
---
Get cleaner water from every tap, every faucet, and in every room with the Culligan® Total Home Water Conditioner. Our hardworking two-in-one solution provides cleaner, softer Culligan water everywhere you want, with the added benefit of filtering out unpleasant contaminants like chlorine.*
Explore customizable filtration solutions designed to suit all kinds of whole-house needs, from hard water problems like stubborn soap scum and residue, to bitter taste or chlorine odors. A whole-house water filter from Culligan treats your problem water directly at the source, so you enjoy the benefits of cleaner, fresher water from every faucet. Culligan has 80 years of experience with all types of problem water so you can have peace of mind that your family's water is in good hands with your local Culligan Man®.
Culligan® Whole House Filter Specifications
---
Non-corrosive control valve designed to deliver years of reliable service
ACCUSOFT® Microprocessor offers worry-free operation of your whole-house filter, even in power outages
Dubl-Safe brine refill valve provides peace of mind during refill
CUL-FLO-VALV® makes operation easyGuest Cycle recharge option generates an extra supply of filtered water with the touch of a button
CULLEX® resin provides maximum capacity, stability, and long-lasting operation
Quadra-Hull® Tank delivers dependable operation thanks to multiple layers of construction
High-grade quartz underbedding distributes water evenly, maximizing water flow
FAQ About Culligan® Whole House Filter Systems
---
1. What are the benefits of the Quadra-Hull® tank?
Culligan's Quadra-Hull® tank is one of the strongest water tanks available on a water softener. The exclusive four-layer construction of the Quadra-Hull® tank provides more protection than industry standard fiberglass and metal tanks. This design makes them impervious to rust and corrosion and they are UV resistant. Culligan's Quadra-Hull® tanks offer a limited lifetime warranty on the tank and internal components.
2. What is filtered water?
Filtered water typically refers to water that has gone through a filtration process to reduce the amount of iron, hydrogen sulfide, aesthetic chlorine taste or odor, as well as microorganisms such as cryptosporidium and giardia.
Water filtration involves separating mineral particles, like particulates, iron, hydrogen sulfide, or organic matter, from the water molecule (H2O). By passing water through a "filter bed," or "media bed," these granular particles are trapped, allowing the cleaner water to pass through.